The Master of Business Administration (M.B.A.) programme is designed to equip you with essential modern management skills and knowledge and prepare you with an enterprising spirit grounded on solid business practices. The programme also aims at providing you with analytical and decision-making capabilities in order to face different kinds of new challenges resulting from the rapid changes seen in today's growing business environment. You will study tools and techniques that will help you develop and manage products and services that will be competitive internationally.
PROGRAMME OBJECTIVES
The programme has the following aims:
To enable the advanced study of organisations, their management and the changing external context in which they operate.
Equip individuals for and/or development of a career in business and management by developing skills at a professional or equivalent level to assume senior managerial and leadership positions in business.
Development of the ability to apply knowledge and understanding of business and management to complex issues, both systematically and creatively, to improve business and management leadership and practice.
Enhancement of lifelong learning and personal development so as to be able to work with self-direction and originality and to contribute to business and society at large.
PROGRAMME GOALS
The M.B.A. programme structure enables students to acquire the following knowledge and transferable skills:
Develop the fundamentals and requisite skills set of effective leadership in a global environment.
Develop how to communicate and structure their ideas into logical steps that utilize their resources, respect social and cultural boundaries.
Learn to recognize opportunity, how to establish what needs to be done, how to determine who needs to be involved, how to manage effectively, and how to honour cultural differences.
Develop analytical thinking.
Develop reasoning skills.
Develop critical thinking and problem-solving skills.
Know the importance of teamwork.
Demonstrate the ability to self-evaluate, modify behaviour and meet or exceed obligations.
Demonstrate the ability to create and sustain a positive impression, confidence and advance in a career.
Develop a fundamental understanding of the principles of business.
Develop highly effective communication skills.
PROGRAMME BENEFITS
At the end of the programme the successful student will have the ability to:
Demonstrate critical understanding of management theories, current issues of management, the development of conceptual frameworks to guide their application within organizations.
Acquire a strong foundation in key functional areas of business management to enable them to succeed as effective managers/leaders in an increasingly complex and dynamic environment.
Acquire and use a range of concepts, tools and techniques for problem solving and decision-making for analyzing complex and inter-related business scenarios.
Demonstrate and apply independent research and critical skills enabling the investigation and evaluation of valid and relevant management issues and practices.
Demonstrate initiative, insight, attitudes of responsibility and ethical leadership in the development of the strategic management agenda in the organization the participant works in or expected to work in the
PROGRAMME STRUCTURE & REQUIREMENTS
In order to obtain the M.B.A. degree (with specialisation), students needs to complete 8 core modules + Action Research Paper in his/her chosen specialisation area.
The 8 core modules are taught modules (with an option to be accessed from wherever, particularly for those students who are not Thailand-based) and are assessed using Application-Oriented-Assignments (AOA). Each module is assessed through an AOA of 3,500 to 4,000 words.
Note: Students will carry out an Action Research and produce a full report of his/her research and its findings in an area of specialization (minimum 5,000-word long research report).
8 CORE MODULES + ACTION RESEARCH PAPER
MGT510: Managerial Accounting (7.5 ECTS): This module examines the principles, techniques, and uses of accounting in the planning and control of business organisations from a management perspective. Identified are the budgetary process and related performance evaluation techniques, cost-volume-profit relationship, product costing methods, Just-In-Time (JIT) manufacturing, and Activity Based Costing (ABC). Related theory and application will also be reviewed.
MGT520: Managing Business Strategy (7.5 ECTS): This module includes a study of strategic planning including mission statement development, analysis of the external environment and internal organisational factors, development of strategic alternatives, selection of appropriate alternatives, implementation of strategies, and competitive strategies and dynamics. Special emphases are given to the integration and coordination of the functional areas within the enterprise. The case method will be used to provide practical experience in analysis and decision-making in the solution of business problems.
MGT530: Human Capital Management (HRM) (7.5 ECTS): This module prepares students to address the concepts of personnel development as managers. Students learn criteria for developing effective job analysis, appraisal systems, and appropriate career development plans for employees. Other topics include personnel selection, employee compensation, benefits, training, workplace diversity, discipline, employee rights, unions, and management behaviours.
MGT540: Marketing Management (7.5 ECTS): Marketing Management is the art and science of choosing target markets and getting, keeping, and growing customers through creating, delivering, and communicating superior customer value. Marketing management seeks to meet organisational objectives by effectively satisfying customers in a dynamic environment. This module provides an overview of marketing processes and marketing principle and provides students with the opportunity to apply the key concepts to practical business situations.
MGT550: Managing Operations (7.5 ECTS): Management of Productions / Operations – Introduces production and operations management, the business function responsible for creating goods and services. In recent years, the scope of production management has broadened considerably. Production concepts and techniques are now being applied not only to manufacturing concerns but to a wide range of service industries. These include health care, food service, recreation, banking, hotel management, retail sales, education, transportation, and government. This course examines the design and control of systems needed for the efficient use of materials, human resources, and equipment. It also discusses the allocation of financial resources, facilities, and information in the development of competitive products and services.
MGT560 – Leading Organization (7.5 ECTS): This module offers an opportunity for senior-level managers to acquire expert insights, explore leadership and people management concepts, and examine actionable strategies for building the kind of leadership and people manager to enable employees to deliver their optimum performance. This module also aims to provide students with the ideas, frameworks, and tools required in creating an environment and culture in which individuals feel compelled to innovate and contribute to a transforming work environment. This module covers both the role of the effective leader and the impactive manager. The roles are different but connected and clarifying the differing approaches and capabilities in the two roles helps effectiveness and impact in both.
MGT570: Financial Management (7.5 ECTS): This module is specifically designed for individuals involved in Financial Planning, Accounting Records, Financial Monitoring, and Internal Control System. This module will ensure that the students prove to be an invaluable to their respective organisations, possessing important skills in the four areas mentioned above. The module will help them to manage multiple financial management responsibilities more effectively and efficiently.
MGT580: Project Management (7.5 ECTS): This hands-on module provides students with the fundamentals associated with project management. Students take a case study through the essentials of a four-phase project planning process, learn about the unique challenges at each stage and see how a project manager's mastery of essential knowledge increases the likelihood of project success. Advanced concepts in project management are introduced and include multi-project management, estimating and budget development, the Theory of Constraint Planning and Earned Value theories, communications planning, project control, earned value and integration management, risk management, time management, negotiation and conflict management, contracting and procurement planning.
ACTION RESEARCH PAPER
This requirement of the M.B.A. programme will enable the student to prepare a research paper that applies managerial concepts and research techniques to a significant organizational issue or problem, within the context of his/her chosen specialization area. After completing the action research the student should be able to:
Select, evaluate and apply critical management thinking to an organisational issue or problem.
Critically evaluate the techniques and processes used to investigate an important organisational issue or problem.
Synthesize information to arrive at a coherent conclusion.
Critically evaluate the implications for the recommendations presented.
Critically reflect on his or her development of knowledge, skills and techniques used during the preparation of the Action Research Paper.
SPECIALISATIONS TO CHOOSE FROM
MBA in General Management
MBA in Leadership
MBA in Strategy
MBA in Entrepreneurship
MBA in Finance
MBA in Human Resource Management
MBA in Marketing & Sales Management
MBA in Hospitality Management
MBA in Logistics & Supply Chain Management
MBA in Retail Management
MBA in Operations Management
MBA in Information Technology & Systems Management
MBA in Innovation Management
MBA in International Business
MBA in Corporate Social Responsibility (CSR)
GRADING SCHEME
EIU-Paris follows European Credit Transfer and Accumulation System (ECTS academic credits scheme). The ECTS credit system makes degree programmes and student performance more transparent and comparable all across European Union countries.
M.B.A. Grading Scheme:
Each M.B.A. programme consists of 8 core modules and an Action Research paper for the area of specialisation.
Each of the 8 modules carries 7.5 ECTS (7.5*8 = 60 ECTS) and the Action Research paper carries 30 ECTS making total ECTS for the M.B.A. Programme 90.
| | |
| --- | --- |
| Pass: | |
| Higher Distinction | : 90-100% |
| Distinction | : 80-89% |
| First Division | : 70-79% |
| Second Division | : 60-69% |
| Satisfactory | : 50-59% |
| Fail: | |
| Unsatisfactory | : 49 % and below. |
LEARNING SUPPORT
Our dedicated academic counselors are ready to assist you, 24 hours, 7 days a week, with any question you may have or any difficulty you may face while studying in our courses and/or programmes. For immediate assistance or inquiry regarding your academic concerns and issues, you could contact our academic counselors at counselor@pc.eiu.ac
WORKLOAD
We recommend an average of 10-12 hours of study time per week for this programme.
DURATION
The full programme would take somewhere between 12 – 18 months to complete. It is imperative that students meet module assignment submission deadlines as indicated.
ENTRY REQUIREMENTS
Recognized Bachelor Degree in any field.
Sufficient English language proficiency (IELTS 6.0 or its equivalent).
At least 3 years of working experience in the managerial position.
REQUIRED DOCUMENTS
Here is the list of documents required for the M.B.A. admissions:
Education Certificates
Latest CV / Résumé
Personal Statement (500 words)
Passport Copy
Passport Size Photo (jpg format)
2-3 Reference Letters (past or current employer(s) or professors)
LEARNING MATERIALS
Personalized, easy to understand text-based (reading materials) interactive resources that progressively and systematically takes the learner through various areas of competencies required at the workplace, in a specialized field of study
ASSESSMENT OF LEARNING
Personalised exercises, assignments and/or quizzes are utilized throughout the course/programme to measure progress in learning. such comprehensive assessment procedure is characterized by being diagnostic, formative (intervention-oriented), and summative
COMPLETION REQUIREMENT
100% completion of courses and assessment therein is required to be able to get certified in the said course and/or programme
SAMPLE AWARD ( DIGITAL COPY )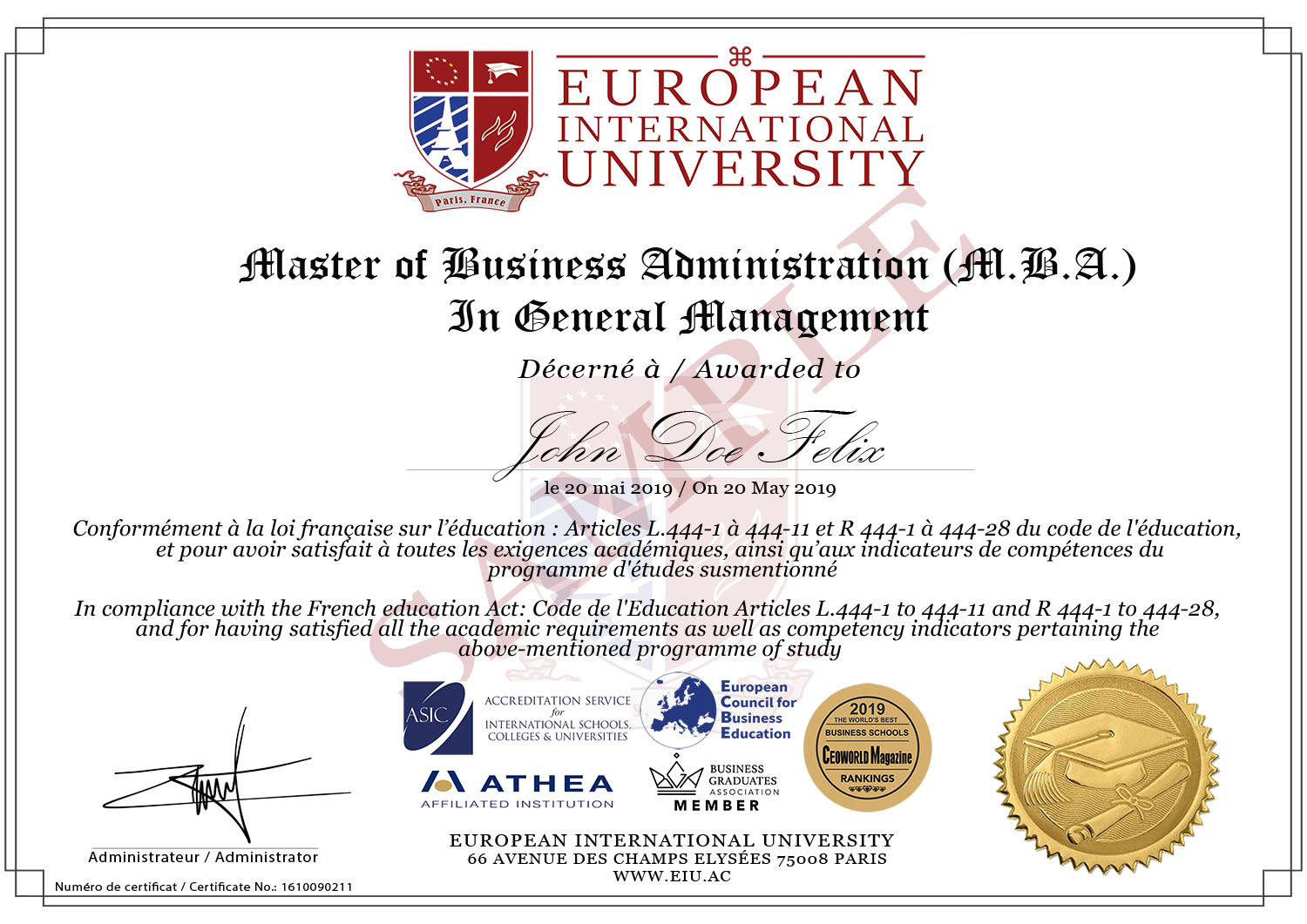 GET A HARD COPY AWARD (PHYSICAL COPY)
Apart from obtaining a digital copy of your nationally recognized and internationally accredited qualification, you could also place an order for a hard copy of the same award at an additional fee of 50 Euro only + Shipping Cost
To request for a hard copy award, please contact: award@.eiu.ac