Bachelor of Business Administration (B.B.A.) in Hospitality and Hotel Management Equips the learner with the ability to take part IN the Hospitality and hotel industry, which is one OF THE fastest growing industries in the 21st century. Learners who study BBA in HHM will be able to COMPETE within the dynamic and rapidly evolving field with the knowledge that will enable the learner to excel in the workforce. This specialisation will give learners meaningful insight and understanding on topics such as Human Resource Management, Sustainable Development, Strategic Hotel Planning, Hospitality Marketing and Sales, and Housekeeping Management.
BUS110 Business Communication
This module will teach learners how to effectively communicate in the business world and how to create professional presentations that will win over an audience.
MGT120 Managing Business
This module will develop learners' management skills by building his/her knowledge of controlling and dealing with the business processes used to run an organisation or company.
ACC130 Accounting Principles I
This module will develop a learner's understanding of accounting fundamentals and basic financial statements.
BUS140 E-Commerce
In this module, the student will learn how to develop, market, and implement e-commerce strategies.
ECO150 Principles of Economics
This module will dive into economic fundamental activities such as distribution, exchange, production, and consumption.
FIN160 Principles of Finance
This module will help the student further gain the necessary skills to analyse financial statements and begin to understand how to make sound financial plans and decisions.
MKT170 Principles of Marketing
This module will also help learners understand the importance of a good marketing mix, to evaluate product placement, and to be able to outline a company's marketing plan.
HRM180 Human Resource Management
This module will help to develop the student's ability to effectively lead, motivate, communicate and organize the skills that they need to manage HR relationships within a company.
ACT210 Accounting Principles II
This module takes a deeper look into accounting by diving deeper into financial statements and accounting ratios.
MGT220 Operations Management
This module will enable learners to understand the managing intricacies of how to plan, control, and organize international operations.
BUS230 Entrepreneurship
The entrepreneurship module explores how a learner can plan, organize and develop a new product or service in order to create a new business venture.
BUS240 Sustainable Business Practices
This course develops awareness of sustainability in the business world and how each individual company should do its part to contribute to the well-being of the environment.
FIN250 Financial Reporting
This module develops the learner's ability to accurately construct, analyse, and interpret financial reports.
MGT260 Logistics and Supply Chain Management
Logistics is the process of managing, planning, and facilitating the flow of products within a supply chain and this module will help the learner to uncover the inner workings of logistics for a company.
MKT270 Cross-Cultural Marketing
After completing this module, learners will possess the necessary skills to market products internationally.
MGT280 Business Information Management
This module shows the learner how to use business management technology software in the business world. It will also introduce the learner to important information management software and applications that are regularly used in business.
HHM310 Housekeeping Management
This module will provide learners with an understanding of the responsibilities of managing the housekeeping division, inventory management, and cleaning procedures.
HHM320 Food and Beverage Management (FBM)
This module will equip learners with an understanding of managing food cost, controlling quality and standards, and handling inventory.
HHM330 Strategic Facility Planning
This module will provide learners with the practical knowledge of the required steps to strategize and plan for facility expansions.
HHM340 Sustainable Hotel and Hospitality Management
This module looks into how the hospitality industry can decrease its use of resources, and take a more sustainable approach to manage their impact on the environment.
HHM350 Hotel Business Marketing
In this module, learners will learn the necessary strategies to market a hotel to the 21st-century customer. This module covers topics such as the use of an online travel agency, revenue management strategies, and the importance of effective digital marketing.
HHM360 Hotel Financial Management
This module also focuses on loan repayment and reliable financial indicators that examine the finances of a hotel.
HHM370 Hotel Event Management
This module looks into all of the behind-the-scenes efforts that event managers handle in order to meet the customers' expectations.
HHM380 Hotel and Hospital Management Capstone Project
This module will allow learners to demonstrate their knowledge of both theories and the understanding of practical applications in the business world. By completing the Capstone Project, students will demonstrate their abilities to apply the necessary theories in real-world applications.
WHAT WOULD YOU GET AT COMPLETION
Mastery of and competency in specific targeted job skills much required for personal impact and professional success.
Nationally recognised and international accredited BACHELOR OF BUSINESS ADMINISTRATION IN HOTEL AND HOSPITALITY MANAGEMENT evidencing your competitive advantage in the job market, locally and internationally.
Greater confidence to face job-related tasks and achievement of optimised performance.
Direct application of relevant vocation-specific skills and technical know-how transfer for significantly improved performance at workplace.
Higher likelihood of being considered for job promotions and salary upgrades.
Become officially certified as EXPERT SPECIALIST, both theoretically and practically, in HOTEL AND HOSPITALITY MANAGEMENT. 
Learners should possess a High School Diploma or its equivalent qualification, such as IGCSE, A-Level, IB, GED, etc.
Learners should possess proof of English language proficiency such as IELTS, TOEFL or pass EIU's English proficiency test.
Learners should possess a high level of motivation and self-discipline.
Learners must possess basic smartphone or computer operating knowledge and skills.
Mature and high potential candidates without any previous education qualifications will be considered on a case-by-case basis with a minimum requirement of at least 3-5 years of professional working experience in the managerial/supervisory roles.
We recommend an average of 10-12 hours study time per week for this programme.
Personalised, easy to understand text-based (reading materials) interactive resources that progressively and systematically takes the learner through various areas of competencies required at the workplace, in a specialised field of study.
EIU - LEARNING MANAGEMENT SYSTEM MANUAL
Personalised exercises, assignments and/or quizzes are utilised throughout the course/programme to measure progress in learning. Such comprehensive assessment procedure is characterised by being diagnostic, formative (intervention-oriented), and summative.
100% completion of courses and assessment therein is required to be able to get certified in the said course and/or programme.
EIU-Paris follows European Credit Transfer and Accumulation System (ECTS academic credits scheme). The ECTS credit system makes degree programmes and student performance more transparent and comparable all across European Union countries.
Each B.B.A. programme consists of 24 core modules including a final year research project module. Each of the 24 modules carry 7.5 ECTS (7.5*24 = 180 ECTS).
| | |
| --- | --- |
| Pass: |   |
| Higher Distinction |  90-100% |
| Distinction |  80-89% |
| First Division |  70-79% |
| Second Division |  60-69% |
| Satisfactory |  50-59% |
| Fail: |   |
| Unsatisfactory |  49% and below |
CERTIFIED COURSE-BY-COURSE FOREIGN ACADEMIC EVALUATION (U.S. EQUIVALENCY):


EIU's B.B.A degree has been reviewed and evaluated against U.S. standards and is certified to be equivalent to an B.B.A degree conferred by Regionally Accredited Universities in the United States.


This means that the EIU B.B.A degree meets full or partial requirements for U.S. Citizenship and Immigration Services (USCIS) promulgated by the United States Dept. of Homeland Security. Additionally, the EIU B.B.A degree also meets requirements for continuing education and/or employment in the U.S.


This evaluation is done following guidelines set by AACROA evaluation guidelines, as well as, based on best practices promulgated by The Association for International Credential Evaluation Professionals (TAICEP), the National Association of Graduate Admissions Professionals (NAGAP), The European Association for International Education (EAIE), and the Association of International Educators (NAFSA).


To see a sample of the CERTIFIED COURSE-BY-COURSE ACADEMIC EVALUATION (U.S. Equivalency) document for EIU degree, click here
RECOGNITION, ACCREDITATION & MEMBERSHIP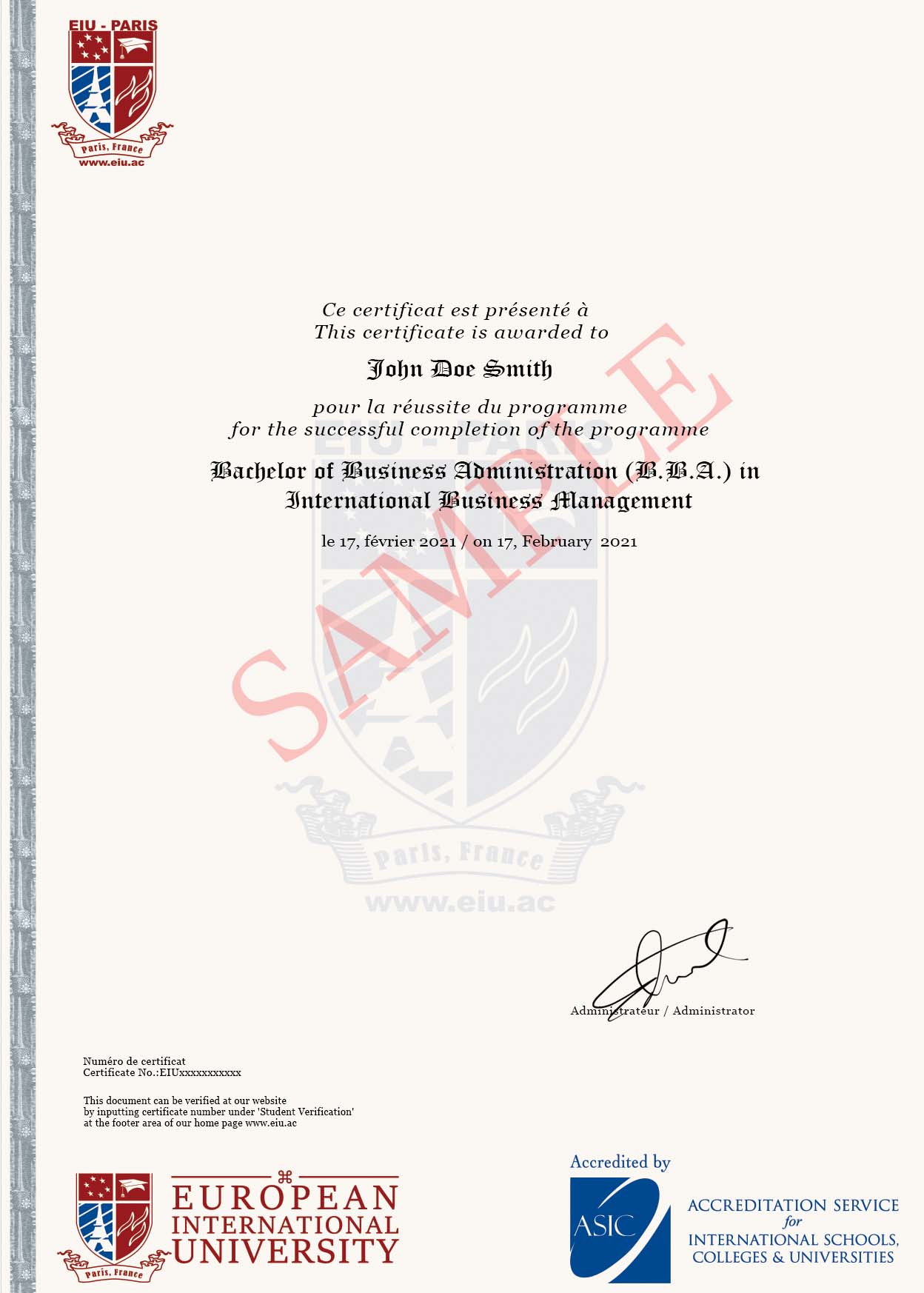 GET A HARD COPY AWARD (PHYSICAL COPY)
Our dedicated academic counselors are ready to assist you, 24 hours, 7 days a week, with any question you may have or any difficulty you may face while studying in our courses and/or programmes. For immediate assistance or inquiry regarding your academic concerns and issues, you could contact our academic counselors at [email protected]